Sunday (from 12 pm) to Thursday
Friday to Sunday (until 12 pm), holidays and holiday eves
Honeymoon (booking in advance)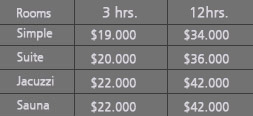 Above room prices includes Frigobar.
Breakfast or supper included for guests of 12 hours stay.


$3000 pesos for each additional hour. Not available for Friday and Saturday nights and the day before holiday.
50% extra charge for additional guest, with a maximum three persons per room.
The company reserves the right of admission.